What's Happening
Talent Branch Hours

Open

Close

Tuesday

10

6

Wednesday

12

7

Thursday

12

7

Friday

10

5

Saturday

10

5

LIBRARY UPDATE – mid-April 2015
April Movies – Backstage Musicals
From the very first musical, Hollywood has often focused on the offstage lives of performers putting on a show. These backstage musicals represent many of the greatest films produced in the genre. On Wednesdays in April the Talent Library will be presenting five of the very best, from the film regarded as the very first talkie musical to the one often called the peak of the golden age with stars such as Debbie Reynolds, Gene Kelly, Judy Garland, Ginger Rogers and Fred Astaire. Each presentation will include a 15 minute introduction about the film's production. For our April 22 showing we will have Harriet Scott here as a special guest. Ms. Scott danced with Gene Kelly and swam with Esther Williams and will share some anecdotes about the films she was in as well as answer a few questions from the audience.
April 1 - Regarded as the first Hollywood musical, this film starring Charles King, Anita Page & Bessie Love won an Oscar as Best Picture of the Year. See the Reviews to learn more. (1929 / 100 min. / Not Rated)
April 8 - Busby Berkeley provides the choreography for Ruby Keeler, Ginger Rogers & Dick Powell in this classic tale of a chorus girl who replaces the star at the last moment. Reviews. (1933 / 89 min. / NR)
April 15 - Judy Garland reluctantly lends her farm as a rehearsal space to Gene Kelly and his theatrical troupe. Reviews. (1950 / 108 min. / NR)
April 22 - Gene Kelly, Debbie Reynolds & Donald O'Connor learn how to make talkies. (With a special introduction by "Chorus Girl" Harriet Scott.) Reviews. (1952 / 103 min. / G)
April 29 - Fred Astaire plays a washed-up movie star who puts on a Broadway show with Cyd Charisse. Reviews. (1953 / 112 m in. / NR)
Showtime at 2pm, Wednesdays in April at the Talent Library. Admission and refreshments are free. There will be a 15 minute introduction discussing the making of each film in the series.
Afterschool Storytime, Thursdays 3:30pm
On Thursdays at 3:30pm Talent Library offers a thirty-minute Storytime for kids in Kindergarten through 2nd Grade (younger kids welcome if accompanied by parent).
The storytimes feature readings, rhymes & maybe a song or two. Program continues on Thursdays through the end of May (except when the Library is closed for holidays).
Regular Activities
Mondays
8:30-9:30am Strength Training
Tuesdays
10:30-11am Preschool Storytime
10:30-11am Babies & Wobblers
Wednesdays
8:30-9:30am Strength Training
1-2pm English - Spanish conversation
2pm Free Movie with refreshments
Thursdays
3:30-4pm Afterschool Storytime
Fridays
8:30-9:30am Strength Training
Saturdays
noon-3pm Scrabble™
Talent Garden Club
10am 1st Saturday most months
Other
(check for dates/times)
Jane Austen Society
Toastmasters

Entrances
1958 - 1975
The Friend Zone
Friends of the Library are volunteers dedicated to the support, assistance, and promotion of our local library.
The Talent Friends have given extensive financial support to the Summer Reading and Storytime programs, provided volunteers to aid the library staff, maintained the glass display cases, sponsored free programs and Wednesday movies, and funded acquisition of additional books, magazines, and DVDs for our Talent Library.
Our successful Capital Campaign raised a third of million dollars, increasing the patron and book space in the new Talent Branch Library by over 1400 square feet.
The Friends have established a permanent endowment for Talent's public library, the "Talent Library Fund", at The Oregon Community Foundation. See footer.
Friends of the Talent Library
PO Box 994 - Talent, OR 97540
eMail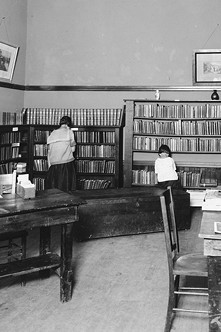 Talent Public Library
1922