What's Happening
Talent Branch Hours

Open

Close

Tuesday

10

6

Wednesday

12

7

Thursday

12

7

Friday

10

5

Saturday

10

5

LIBRARY UPDATE – March 2015
March – The Tough Guy, the Fat Man & the Creep: Film Pairings of Humphrey Bogart, Sydney Greenstreet & Peter Lorre
In movies of the '40s, Humphrey Bogart was the quintessential hard-boiled tough guy. In 1941, Bogie was paired with Sydney Greenstreet as "The Fat Man" and Peter Lorre as an untrustworthy creep in The Maltese Falcon and the trio worked so well together that they played variations on those roles again and again. They only made three films in which all of them appeared in significant roles but they frequently appeared as duos (Greenstreet and Lorre made a total of ten films together in six years). In March, the Talent Library will present the three major films they made together as well as one co-starring the Tough Guy and the Creep without the Fat Man.
Mar 4 - Bogie, Greenstreet & Lorre in search of a black bird statuette. Mary Astor, Ward Bond and Elisha Cook Jr. co-star in this Dashiell Hammett adaptation. See the Reviews to learn more. (1941 / 100 min. / Not Rated)
Mar 11 - Gangsters vs. Nazi spies with Bogie and Lorre on opposite sides and Conrad Veidt standing in for Greenstreet. The great supporting cast includes Phil Silvers and Jackie Gleason. Reviews. (1941 / 107 min. / NR)
Mar 18 - Everybody comes to Rick's place seeking secret documents and to hear Sam play it again. The trio of Bogie, Greenstreet & Lorre is joined by Ingrid Bergman and Claude Rains. Reviews. (1942 / 102 min. / NR)
Mar 25 - Convicts escape from Devil's Island to fight for the French Resistance in WWII. Claude Rains appears with Bogie, Greenstreet & Lorre. Reviews. (1944 / 109 min. / NR)
Showtime at 2pm, Wednesdays in March at the Talent Library. Admission and refreshments are free. There will be a 15 minute introduction discussing the making of each film in the series.
Afterschool Storytime, Thursdays 3:30pm
On Thursdays at 3:30pm Talent Library offers a thirty-minute Storytime for kids in Kindergarten through 2nd Grade (younger kids welcome if accompanied by parent).
The storytimes feature readings, rhymes & maybe a song or two. Program continues on Thursdays through the end of May (except when the Library is closed for holidays).
Regular Activities
Mondays
8:30-9:30am Strength Training
Tuesdays
10:30-11am Preschool Storytime
10:30-11am Babies & Wobblers
Wednesdays
8:30-9:30am Strength Training
1-2pm English - Spanish conversation
2pm Free Movie with refreshments
Thursdays
noon-4pm
AARP Free Tax Preparation
3:30-4pm Afterschool Storytime
Fridays
8:30-9:30am Strength Training
Saturdays
noon-3pm Scrabble™
Talent Garden Club
10am 1st Saturday most months
Other
(check for dates/times)
Jane Austen Society
Toastmasters

Entrances
1958 - 1975
The Friend Zone
Friends of the Library are volunteers dedicated to the support, assistance, and promotion of our local library.
The Talent Friends have given extensive financial support to the Summer Reading and Storytime programs, provided volunteers to aid the library staff, maintained the glass display cases, sponsored free programs and Wednesday movies, and funded acquisition of additional books, magazines, and DVDs for our Talent Library.
Our successful Capital Campaign raised a third of million dollars, increasing the patron and book space in the new Talent Branch Library by over 1400 square feet.
The Friends have established a permanent endowment for Talent's public library, the "Talent Library Fund", at The Oregon Community Foundation. See footer.
Friends of the Talent Library
PO Box 994 - Talent, OR 97540
eMail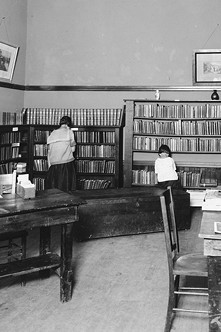 Talent Public Library
1922