What's Happening
Talent Branch Hours

Open

Close

Tuesday

10

6

Wednesday

12

7

Thursday

12

7

Friday

10

5

Saturday

10

5

LIBRARY UPDATE – mid-January 2015
January – Early Hollywood Films of Marlene Dietrich & Josef von Sternberg
Although she had already made almost twenty films prior to her work with Josef von Sternberg, Marlene Dietrich truly was discovered by the director and shaped by him into the iconic role that defined the rest of her illustrious career. On Wednesdays in January, the Talent Library will be showing four of their classic film collaborations.
Jan 21 - Marlene as the exotic "White Flower of the Chinese Coast" travels the rails in a China on the verge of revolution. Reviews. (1932 / 80 min. / NR)
Jan 28 - To support her young son, Marlene performs "Hot Voodoo" in a shady nightclub and accepts help from a millionaire (Cary Grant). Reviews. (1932 / 93 min. / NR)
Showtime at 2pm, Wednesdays in January at the Talent Library. Admission and refreshments are free.
February – The Screwball Comedies of Preston Sturges
During a five year period (1939-1943), Preston Sturges wrote and directed seven of the funniest films ever to come out of Hollywood. Building on the screwball aesthetic of the 30s he took it to his own manic level frequently combining outlandish plots, outrageous slapstick and elegant dialogue and using the most farcical means imaginable to extract his characters from their labyrinthine troubles. On Wednesdays in February, the Talent Library will be showing four Sturges' classics from this period, each notable for having been selected as one of the 100 Funniest Films of All Time by the American Film Institute in 2000.
Feb 4 - Barbara Stanwyck sets out to fleece naive millionaire and snake expert Henry Fonda but ends up falling for him instead. See the Reviews to learn more. (1941 / 94 min. / NR)
Feb 11 - Joel McCrea stars with Veronica Lake in this story about a successful Hollywood director of lowbrow comedies who goes on the road as a tramp in order to research his first "serious" movie. Reviews. (1941 / 90 min. / NR)
Feb 18 - Claudette Colbert and Joel McCrea play a happily married but financially challenged couple who split because the husband suspects hanky panky when the wife takes a large monetary handout from the Wienie King. Reviews. (1942 / 88 min. / NR)
Feb 25 - After a wild farewell party for soldiers headed overseas, Trudy Kockenlocker (Betty Hutton) wakes up to find she is married and pregnant and the only thing she remembers about her husband is that there was a Z in his name. Reviews. (1944 / 99 min. / NR)
Showtime at 2pm, Wednesdays in February at the Talent Library. Admission and refreshments are free.
Afterschool Storytime, Thursdays 3:30pm
On Thursdays at 3:30pm Talent Library offers a thirty-minute Storytime for kids in Kindergarten through 2nd Grade (younger kids welcome if accompanied by parent).
The storytimes feature readings, rhymes & maybe a song or two. Program continues on Thursdays through the end of May (except when the Library is closed for holidays).
Regular Activities
Mondays
8:30-9:30am Strength Training
Tuesdays
10:30-11am Preschool Storytime
10:30-11am Babies & Wobblers
Wednesdays
8:30-9:30am Strength Training
1-2pm English - Spanish conversation
2pm Free Movie with refreshments
Thursdays
3:30-4pm Afterschool Storytime
Fridays
8:30-9:30am Strength Training
Saturdays
noon-3pm Scrabble™
Talent Garden Club
10am 1st Saturday most months
Other
(check for dates/times)
Jane Austen Society
Toastmasters

Entrances
1958 - 1975
The Friend Zone
Friends of the Library are volunteers dedicated to the support, assistance, and promotion of our local library.
The Talent Friends have given extensive financial support to the Summer Reading and Storytime programs, provided volunteers to aid the library staff, maintained the glass display cases, sponsored free programs and Wednesday movies, and funded acquisition of additional books, magazines, and DVDs for our Talent Library.
Our successful Capital Campaign raised a third of million dollars, increasing the patron and book space in the new Talent Branch Library by over 1400 square feet.
The Friends have established a permanent endowment for Talent's public library, the "Talent Library Fund", at The Oregon Community Foundation. See footer.
Friends of the Talent Library
PO Box 994 - Talent, OR 97540
eMail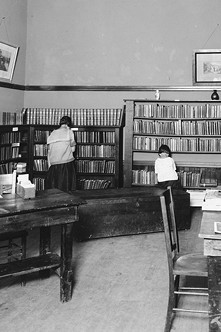 Talent Public Library
1922